If you live in a world of email and fax, it's hard to imagine the absence of Fax machines. But as faxing becomes more difficult, online fax services like Faxhero are becoming increasingly popular. Here are 10 features to look for when choosing an online service provider that offers these convenient facilities:
Faxes are a common way to send documents and images. The "free online fax service" is one of the many things that you should look for when choosing an online fax service provider.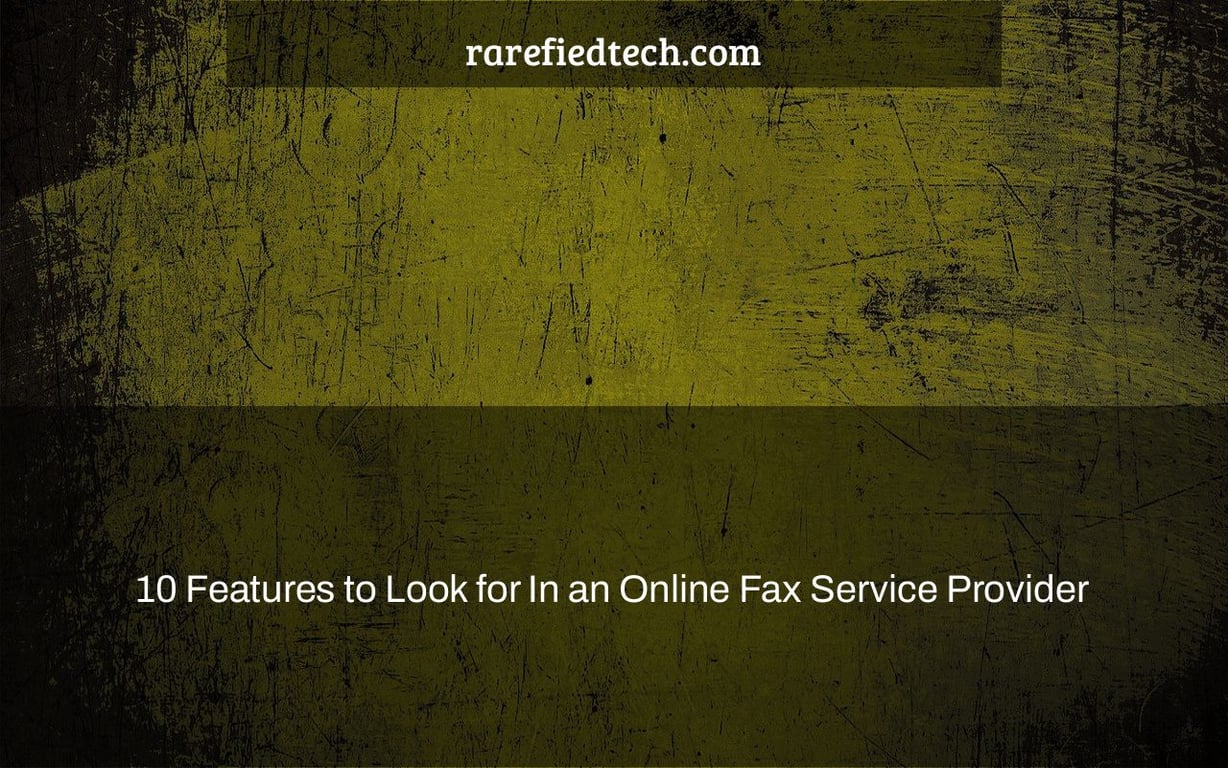 When looking for an online fax service, make sure it meets your company requirements and helps you enhance service delivery. It ideally connects communication channels such as emails and faxes to allow for collaboration while sending data. A look at the service provider's profile might give you an idea of what they have to offer. You may ask for additional information about security, speed, and fax transmission prices, among other things, to see whether they're a good fit for your company. When you're searching for a solid and dependable e-fax service to use on a regular basis, there's a lot more to consider. In today's piece, I'll go through the ten most crucial characteristics to look for when purchasing an online fax service provider…
Internet Fax's Advantages
First, let's look at why Internet Fax is so helpful today. There are five primary advantages of online faxing, according to eFax, one of the top online fax services:
It's practical since you can send faxes on the move without the need for a fax machine, paper, or ink toner!
E-fax is environmentally beneficial since it eliminates the need of paper.
It is affordable since it is far less expensive than purchasing and maintaining a real fax machine.
Supports online applications – most internet fax providers allow for the integration of mobile apps (for android and iOS)
Fast and safe – in just a few minutes, you can set up an online fax service and begin securely sending e-faxes.
I also recommend that you read this article on Traditional Fax Machine versus Online Fax Service to see how an online fax service is unquestionably a superior investment!
The ten most important characteristics to look for in an online fax service provider
1. Data Protection
Cybercriminals are attracted to vulnerable networks and may get access to your company's data. If your faxes are not sufficiently safeguarded, they might be intercepted and manipulated. As a result, it's critical to encrypt or password-protect the transferred data and protect your business communications.
As a result, the internet fax service provider should have data security mechanisms in place to protect your incoming and outgoing faxes, as well as data backup or storage so you may recover information from the archives.
2. Fax Follow-Up
For efficient communication, your incoming or outbound faxes must reach their intended recipient. The designs should enable for real-time information transmission tracking. It's a simple approach to estimate reaction time and aids decision-making in your company.
Furthermore, if you use standard business email, it's simple to track down missing or misplaced faxes. It may be a useful technique for determining service delivery efficiency.
3. File Transfer in Bulk
The online fax platform should enable you to transfer bulk files and pick recipients regardless of the size of your papers. It makes it simple to communicate information inside your company, which is crucial for project management.
You may receive bulk messages on your fax machines or through email if you have an internet connection. Furthermore, huge photographs and movies are transferred using the same method without being reduced in size.
4. Mobile-Friendliness
Because search engines such as Google promote mobile user-friendliness on the internet. The same is true for faxing solutions that enable you to use your phone to send and receive faxes. It facilitates communication while on the go.
Mobile fax apps have been developed to overcome the restrictions of scanning and printing information. To save money on stationery, the service provider may include such things in your package.
It's also a good idea to connect your online faxing plan to your mobile phone and PC as a backup in case one of your devices fails.
5. Customer Service
If you have any problems when utilizing their services, the supplier should be able to answer your questions. It may be done by online chat or a phone call to their support center, and your difficulties will be resolved. You won't have to worry about transmitting and receiving faxes this way.
Furthermore, your transmission's receivers may want help in converting or opening prepared data. You may contact customer service for help and to straighten out any issues that arise through online faxing.
Storage is number six.
Manual record-keeping is being replaced by cloud storage. If your company is going paperless, you'll need fax services that provide limitless storage for all of your communications. A file from the cloud may be accessed and shared by anybody in your business who is permitted to use internet faxing.
However, since cybersecurity is a major issue in the internet era, you should use data security measures such as passwords or two-factor authentication to prevent security breaches of your company's data.
Electronic Signature No. 7
When dealing with business papers, whether manually or digitally, signatures are crucial. It may be utilized in commercial dealings and demonstrates undeniable power and ownership.
If you are needed to sign papers personally, but you are unavailable, your internet fax service should have such options for ease. It may save you time and money by eliminating the need to print, sign, and fax papers.
Options for Fax Numbers
Modern faxing's digital feature has practically decreased the distance and speed of information transfer. To send faxes, all you need is a tactical device with either a toll-free or local number, or both.
Furthermore, your service provider should be able to give both local and international lines in one package, depending on your fax transmission demands. It allows you to interact with your customers or employees from any location on the planet.
However, there are costs associated with faxing over international lines. Your supplier can help you choose the best solution for your faxing requirements.
9. The most affordable service fees
Your expenses of exchanging information should drop dramatically when you shift from conventional telefax machines to internet faxing. Your communication costs are reduced by using the internet and a mobile device. Only the cost of processing fax transmissions is expected to be charged by the service provider.
Examine the market for the lowest service rates and choose the provider that best suits your faxing requirements. Many Internet fax providers offer a free trial period of up to one month if you only want to try it out.
10. Global Transmission
With improved communication methods like online faxing, the internet has changed the globe into a global village. With a few clicks on your smart devices, you may share information inside your business or across the globe. Experience decreases delays while using old telefax equipment.
If you have a global clientele, you'll need to find a service provider that can help you interact efficiently with them. Check to see whether they can manage a worldwide fax service with an unrestricted data transfer. It demonstrates that you are dependable and trustworthy in your field.
Conclusion
When replacing conventional fax machines with online fax transmission, you must be analytical. Prior to engaging the services of an internet fax provider, you should prioritize your company demands. Examine the offered features and determine whether they fit your requirements. Otherwise, you risk exposing yourself to cybersecurity risks, which might render your communication routes useless.
Back-test the features if feasible to evaluate the services and whether you can enroll your company for online faxing.
The "hellofax" is a fax service provider that offers 10 features. The "10 Features to Look for in an Online Fax Service Provider" are:
Frequently Asked Questions
What are the features of fax machine?
A: There are many features of a fax machine. They include scanning documents, transmitting images, and checking the quality to make sure theyre error-free.
What is online fax services?
A: Online fax services are an internet based communications service that allows users to send and receive documents via email.
What is the best way to send a fax online?
A: The best option is to send a fax online by finding a service that offers this type of communication.
Related Tags
best free online fax service
google fax
best online fax service
fax services
fax plus